South Carolina women run away from Mississippi State for first national title
|
Aja Wilsons 23 points lift South Carolina to 67-55 win over Mississippi State and programs first national championship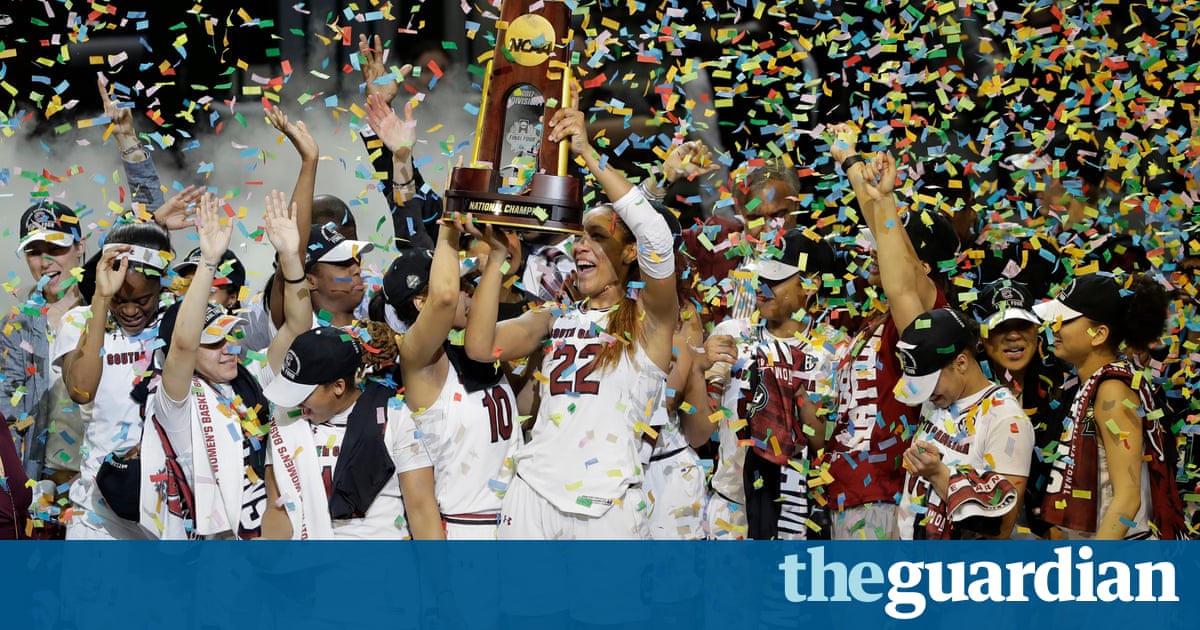 Dawn Staley finally could raise an NCAA championship trophy.
Aja Wilson scored 23 points to help coach Staley and SouthCarolinawin their first national championship with a 67-55 victory overMississippiState on Sunday night.
Staley made the Final Four three times as a player at Virginia but never won. She also led the Gamecocks to the national semifinals two years ago before losing to Notre Dame.
Once the final buzzer sounded, Staley grabbed the trophy and paraded it around the court high over her head.
The victory in front of a sellout crowd came one day after the Gamecocks mens basketball team lost in the Final Four in Phoenix.
MississippiState had all the momentum on its side after a shocking win over UConn on Friday night that ended the Huskies record 111-game winning streak.
The Bulldogs couldnt muster the same effort against the Gamecocks. Morgan William, who had become the face of the tournament with the game-winner against the Huskies after a 41-point performance against Baylor, was held to just 8 points.
SouthCarolina(33-4) turned a 10-point halftime lead into a 45-31 advantage midway through the third quarter before the Bulldogs rallied.MississippiState (34-5) slowly cut into its deficit, getting with 54-50 on Jazzmun Holmes jumper. That brought a huge cheer from the thousands ofMississippiState fans who made the 8-hour trip from Starkville,Mississippi.
But thats as close as the Bulldogs could get.
Wilson, who grew up in SouthCarolina, blocked a shot on one end of the court and then hit a short jumper in the lane that started a 12-2 run to put the game away. Staley emptied her bench with less then a minute left and Wilson left with tears of joy.
The Gamecocks won the title without star center Alaina Coates, who hurt her ankle in the SEC tournament. She didnt even travel with the team to Dallas.
Its tough losing a great player like Alaina Coates, Wilson said. When she went down a lot people probably thought we couldnt do it.
The Bulldogs lost twice to the Gamecocks this year, dropping a game in SouthCarolinain the regular season and then in the SEC Tournament title game.MississippiState Vic Schaefer fell to 0-9 all-time against SouthCarolina.
No team had a tougher road to the championship then the second-seeded Bulldogs. They were trying to become the third team in NCAA history to beat three number No1 seeds en route to the title. Tennessee did it in 1987 and Louisiana Tech accomplished the same feat a year later. The Bulldogs had already knocked off top seed Baylor and UConn to get to the championship game.
This was the sixth time in NCAA tournament history that teams from the same conference played for the national championship, including three by the SEC. Tennessee won both of those matchups, the last coming in 1996 when the Lady Vols beat Georgia.
Read more: https://www.theguardian.com/sport/2017/apr/02/south-carolina-win-national-championship-mississippi-state